Welcome to the World of Chaos!
Main Characters
Latest Chapter
Chapter 99 Again... Spoiler alert! Read At your own risk!

Click on the link below to start reading our article about the chapter.
Featured Character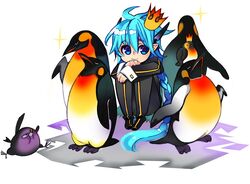 Ninoorut Noah
Ninoorut Noah is the son of Regis Nex and Iffrita Noah, though it's speculated to be false. He is the elder brother of princess Miya.
Ninurrta is shown as being calm and well-collected, but lacks patience. When someone says something offensive towards him he is quick to lash out. Although appearing happy and polite, he is is plagued by doubts of being the Regis's son after rumors begin emerging. Ninurrta wishes for Nex to give him a father's acceptance and is hurt by how Nex never aknowledges him.
Wiki Affiliates
If you would like to become an affiliate of the Cavalier of the Abyss Wiki, Contact Us.
Vote Now!
Featured Image
Main Page Poll
Did you know?
...That there are currently 121 chapters released in Korea.
Other Websites